Not what I wore today, but rather a few days ago. Work and errands have been keeping me busy, so I snapped the shot but didn't post the result. The heat has had its desired effect upon my wardrobe and I have shifted to light garments and taken to rolling a sleeve or two every now and then. I'm thinking of perhaps object dying my Zuriicks, since they aren't as dark as I'd like, and I think it'd be cool if they had a slight yellow cast, too. Inspiration comes from both the Margiela dyed high-tops and the Raf ones, but a devoted Zuriick customer made a couple
custom dye jobs
(all sold out, unfortunately), which is the real impetus behind this daring foray into any experimenting.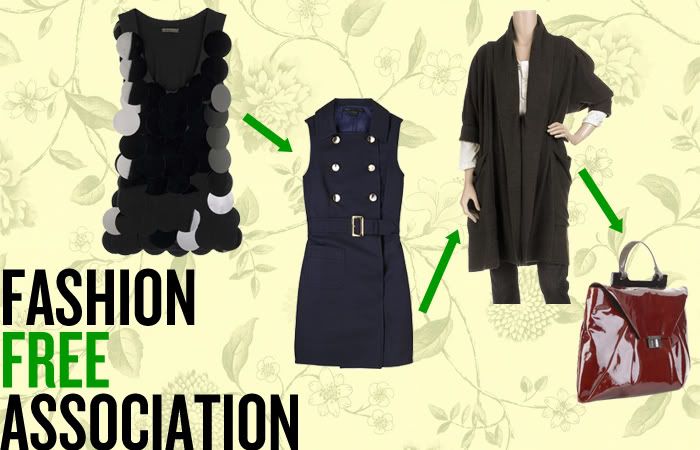 And while it very effectively raises my pant cuffs, summer also has a tendency to lower my attention span and idle dreaming quickly overcomes any other thoughts. Connie's
recent score
of some Yves Saint Laurent pants (timely, no?) from the 70s is totally Le Smoking, what with the wide leg and the fabulous row of sequins down the outseam. The sequins got me fixated on sparkles and – surprise, surprise – I find myself browsing through Net-A-Porter's sale section. And when I stumbled onto this Burberry Prorsum
jumbo paillette top
($1,046.25 on sale from $1,395) I couldn't help but see the same sense of glamour.
     Naturally, I clicked over to Marc by Marc Jacobs and found the same sense of flash (though more subtlety executed) in this
double-breasted sheath
($321 from $428). And the item that Net-A-Porter suggested you should "Wear it with"? This
oversized cardigan
($299.60 from $428). I'm not sure I necessarily agree with that pairing (and I don't), but I must say that it's a piece that has lots of mature glamour. And so does this Marni
patent leather envelope
($797.30 from $1,190). Now somebody go out and get these so I can live vicariously through you.
♦
DiggIt!
♦
Add to del.icio.us
♦
Add to Technorati Faves