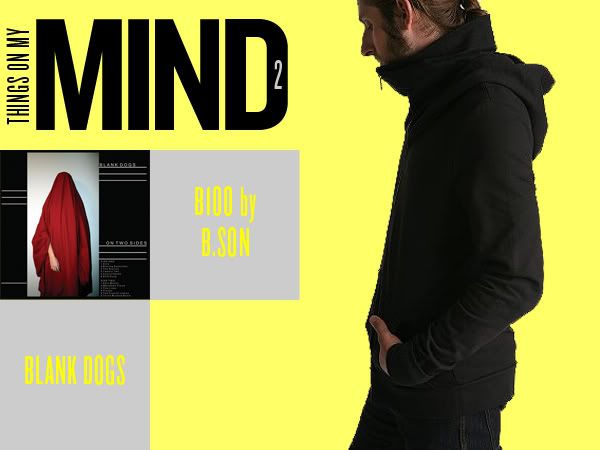 I guess the sparse sounds of Blank Dogs go well while I ruminate on this funnel-neck hoodie from B. Son's collaboration with Urban Outfitters. Both give me pause. On Two Sides sounds like a lot of things you've heard already; it's easy to draw the line between Blank Dogs and New Order, Sonic Youth, and Soft Cell. It's New Wave, but not. It's raw, but the production values show some deliberate polish. It dips its toe into noise rock, but then some dance-y pop hooks show up. If anything, the original unoriginality of On Two Sides reads like a very appropriate and thought-out approach. The album's inherent tensions — between songwriting and dance-compelling — provokes a mixed reaction. Part of me hates it, because I could just turn on some Sonic Youth and listen to this done much better. But then part of me loves it, because if Sonic Youth had made this album, it wouldn't have been so willfully different.
     Likewise, I can't decide whether I'm repulsed or enamored by B. Son's B100 line, produced specifically for Urban Outfitters. When the first word about this hit the Internet, I was expecting some watered-down, over-designed garbage. The problem with so many of these BLANK x BLANK x BLANK endeavors wind up being attempts to produce something very high design at a much lower price point, but the lower manufacturing/material options make that intrinsically impossible. It's a retail reach-around; sure, you're getting to play with someone else's junk, but all you can think about is how the other guy doesn't know how to use your junk like you do. You can't squeeze a larger, more sophisticated and costly aesthetic within retail and design constraints that simply make your original design irrelevant.
     The folks who run B. Son sure are sharp, though. They've avoided this problem by designing
for
 Urban Outfitters. Now, I realize the label already says B100 by B. Son for Urban Outfitters. The preposition isn't what I'm really talking about. I'm talking about intention. But trimming down the B. Son aesthetic to its core components and trashing the rest, B. Son has managed to produce a collaboration that looks like it was designed by B. Son, but doesn't look like fake B. Son or B. Son-lite. Granted, the silhouettes and construction may be taken straight from previous season's collections, but the overall feel of the B100 stuff is pared down enough from the original that it
feels
 like something different.
     Or maybe I'm just trying to justify buying a hoodie that I initially wrote off and now kind of like how it fits, but don't really want to admit to making an error in judgment. Or something.
♦
DiggIt!
♦
Add to del.icio.us
♦
Add to Technorati Faves