Rarely do I ever offer direct admonition. It's not something that I feel like I can do very well. And rarely do I ever feel like I'm in a position in which my opinion really matters, but I can't just let this one go.
     Urban Outfitters has decided it was necessary to re-create the Alain Mikli custom numbers that Kanye had made. Say what you want about him, but Kanye has swagger in spades and can rock those shades, even
if
 they're a ridiculous idea. But to do them in these obnoxious colors for people who believe that "nu-rave" is a real thing? I think I've already seen a few floating around the campus (which is
ridiculous
the moment you stop and think about it) and i only worry that it might get worse. I refuse to provide a link, lest I aid in Urban Outfitters pushing more of these unsightly things into innocent people's hands.
     Urban Outfitters, stop that. Stop that right now.
     On a lighter note, the day was lighter.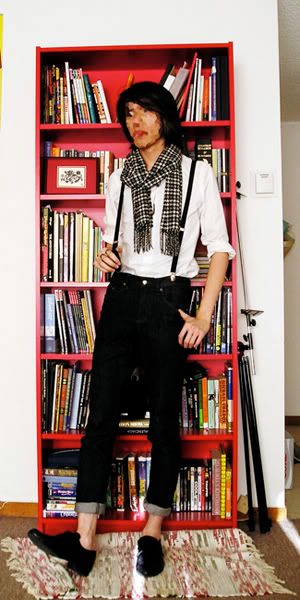 (Zara shirt, random cashmere scarf, Opening Ceremony jeans, thrifted leather lace-ups)
     It was a good day for rolled panted. I wish I had some cropped trousers for this outfit and a better shirt, but hopefully Connie will be bringing back some nice bright shirts for me, which just requires that I buy some nice cropped khaki pants. Maybe it's time for some brown boat shoes? Or some other variant of loafer?
♦
DiggIt!
♦
Add to del.icio.us
♦
Add to Technorati Faves