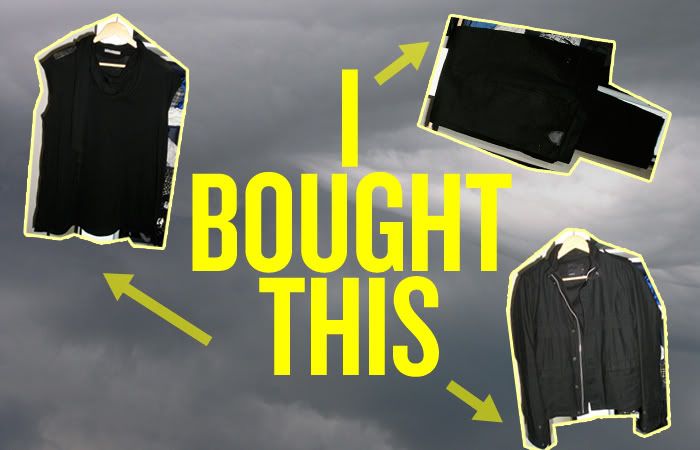 And so the vicious cycle continues. The influx of black continues even as the sun refuses to turn it down a notch. But when it does decide to scale it back a little, I'm definitely going to be prepared. I've been on a big multi-function sort of kick lately, so this sleeveless top with attached scarves from Diet Butcher Slim Skin was a natural draw. Add cashmere and silk and you've got one sold customer. For brisk fall days, I've got this Lad Musician jacket with a roll-away hood if I'm in a pinch. These April 77 Chelsea slacks are actually intended for a super secret event next week, but if I said what it was, then it wouldn't be so secret, now would it?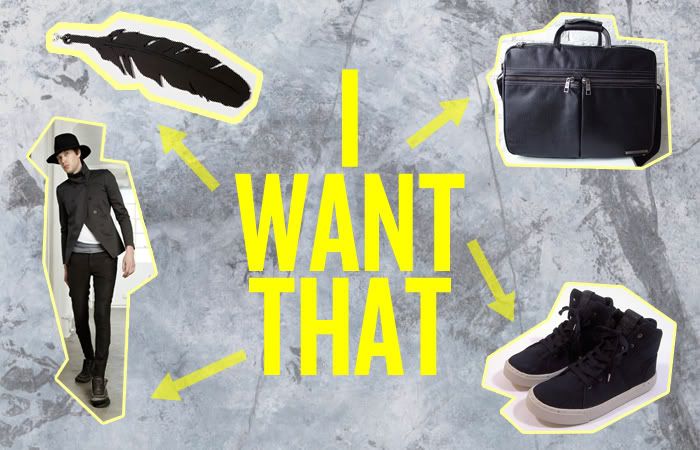 But with every itch you scratch, you always wind up with another. And some of these itches are not easy to scratch. Maybe for a reason? Fiscal responsibility notwithstanding, I've still get my eyes peeled for what's next and — surprise, surprise — it's more black. I'm don't usually consider myself a big sneaker head, but these canvas high-tops from Diet Butcher Slim Skin's fall collection (
$390 @
Blackbird
) would give anyone reason to pause.
     As great as my current
bag
is, I can't help but feel the need for something a bit more professional. I'm not any big proponent of the green fashion movement, but I don't see any reason to pooh-pooh something just because it's vegan leather or anything. And the Jobs briefcase from Matt & Nat (
$258 @
Alter
) might make me turn over a new leaf. Everything from the zippers to the handle to the subtle branding certainly makes a persuasive argument for eco-friendly consumerism.
     Also, the jewelry hunt goes on (does it every really end, though?) and this acrylic feather pendant from Alex & Chloe (
$48 @ Alex & Chloe
) is just the touch of light humor that my slowly darkening wardrobe could use. Who knows? Maybe I'll
really
 step outside the box and try it in fluorescent pink? Well. Definitely not. But I'd give the white version a chance. See? I'm trying to be adventurous.
     So maybe I lied. Maybe this isn't
all
 black. This grey, high collar, double-breasted jacket from Endovanera has positively set my knees a shaking. I tried it on at Acrimony the other day and had a really hard time taking it off. Sharon, I blame you for any and all future calamity that befalls my checking account.
♦
DiggIt!
♦
Add to del.icio.us
♦
Add to Technorati Faves